24 Hours in Traben-Trarbach, Germany: Wine, Nature and Ruins on the Moselle River
Since we would have had an 8-hour layover in Frankfurt on our way to Gdansk from Seattle, we decided it would be much better to spend the night somewhere comfortable to try to combat our sleep deprivation from the long flight. So we rented a car at Frankfurt Main and headed towards Traben-Trarbach, Germany on the Mosel (Moselle) River. How did we know about this place? Marcin lived here for the summer years and years ago.
We started our journey with a Condor Air flight from Seattle to Frankfurt. This was our first time on Condor, and considering it is a more budget-friendly airline and a long flight, it was a pretty positive experience! Tip: We opted for "Premium Class" which gave us a tiny bit more leg room, a fancier menu, free entertainment, and more luggage allowance.
Located about an hour west of Frankfurt, the town is split into two - Traben on one side of the river and Trarbach on the other, with the ruins of Grevenburg Castle looming overhead. It is also a convenient 20-minute drive to Frankfurt Hahn airport where our flight to Gdansk was departing from.
The approach into the town is picturesque as you zip your BMW* down a winding road into the river valley, where you catch glimpses of the multitudes of Riesling vineyards surrounding the area. We arrived right around sunset (which was gorgeous that day!) and were exhausted, so we didn't do much in the evening except grab a quick bite to eat in town and go to bed at our hotel.
*your car experience may vary
We stayed at Jugendstilhotel Bellevue (part of the Romantik Hotel chain), which boasts river views and a nice gourmet restaurant which we didn't get a chance to dine at, but would have if we had more time. We did, however, enjoy the included breakfast the next morning, which was top-notch with many kinds of cheese, meats, fruits, muesli, yoghurt, eggs and bread/pastries to choose from. They even had perfectly ripe avocado which was unexpected and much appreciated.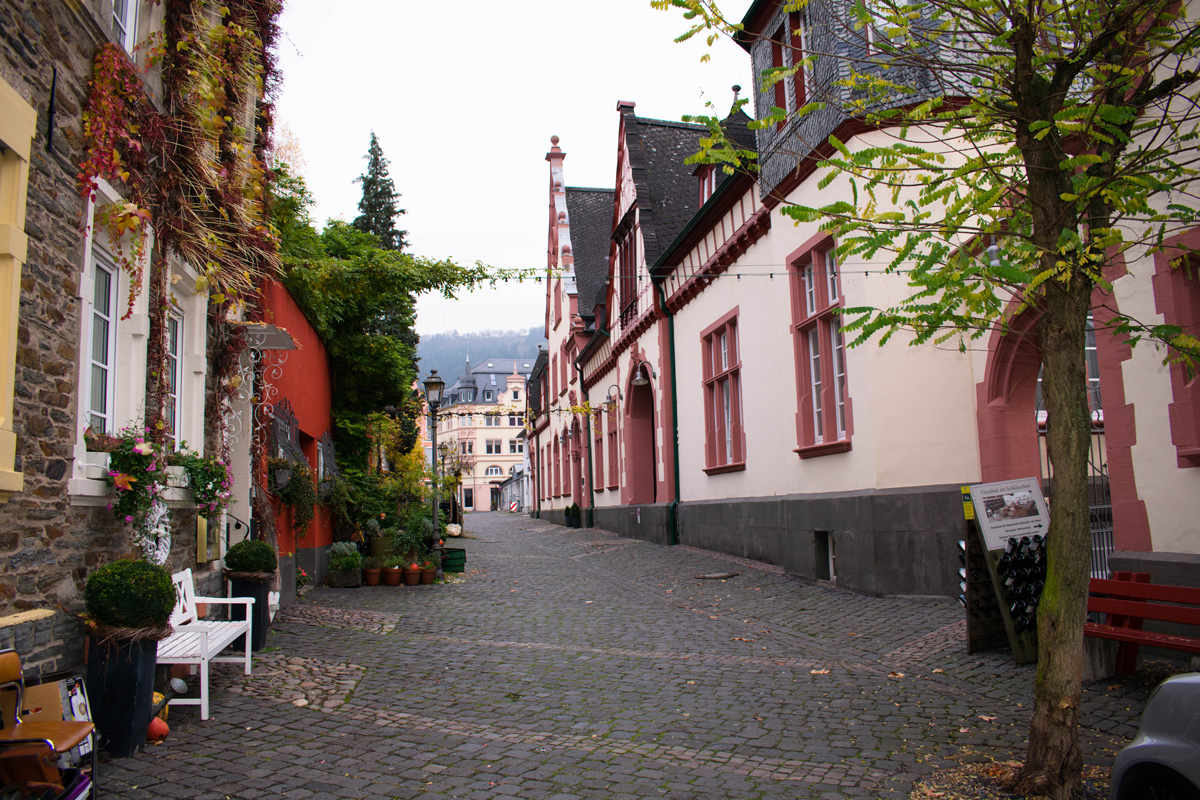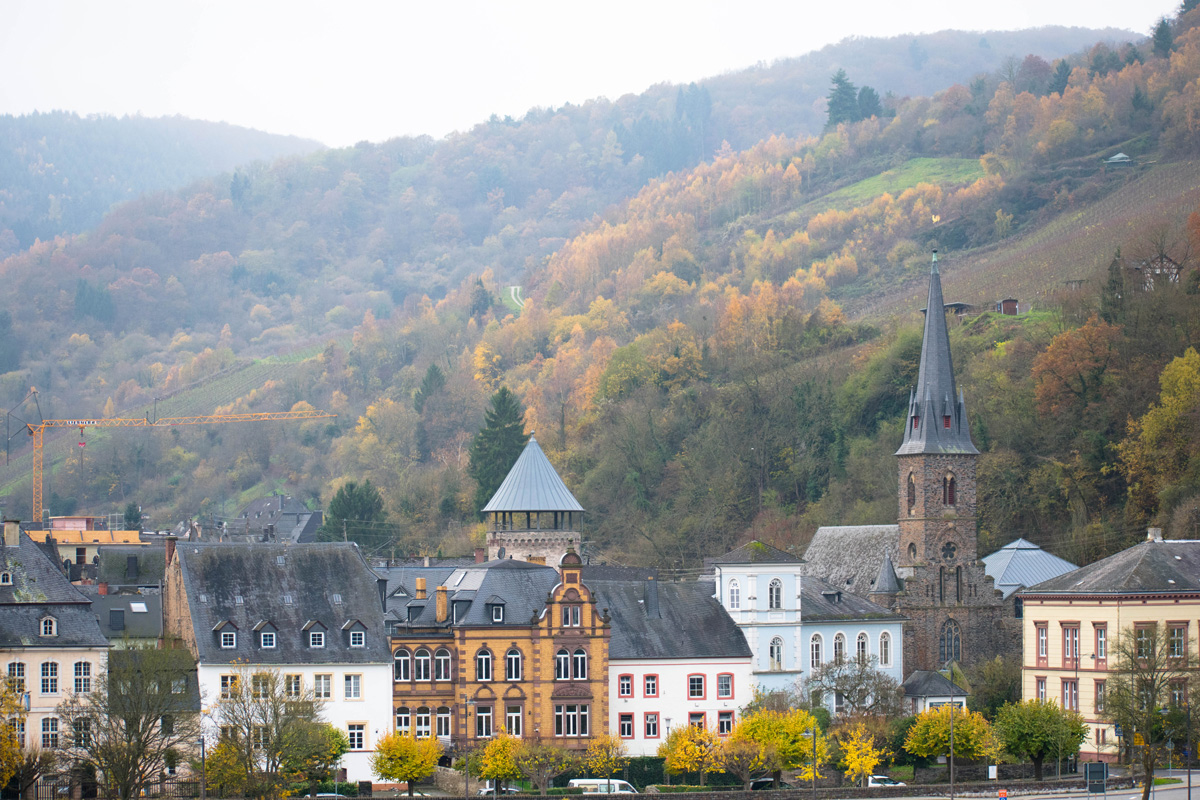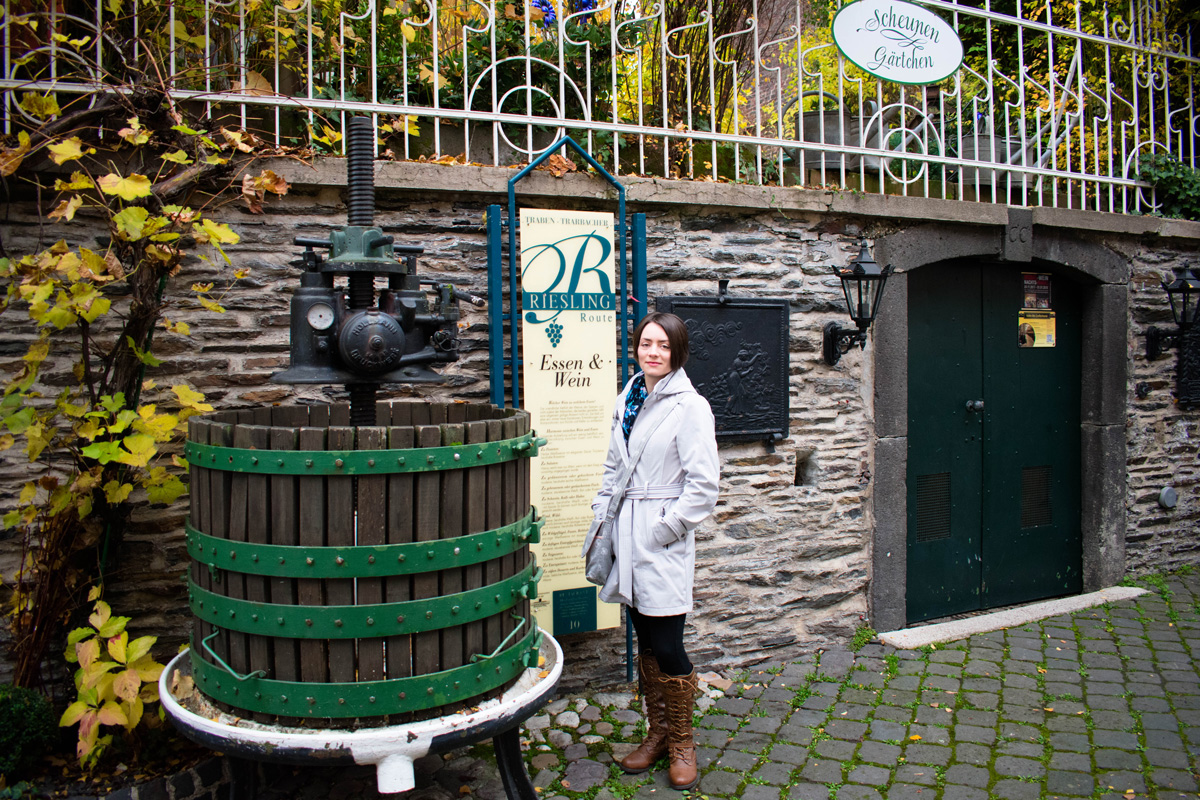 Since our flight wasn't until the afternoon, we had some time to kill so we explored the Traben-Trarbach by foot, walking through all the little side streets and checking out the swans gliding around the river. Unfortunately, since we visited in mid-November, there wasn't much going on and a lot of businesses were closed for the season, but it was still nice to walk around and see.
Back in our car, we headed up to the Grevenburg Castle ruins. You can choose to hike all the way up, which takes about 30 minutes, but since we had checked out of the hotel by this point and didn't want to leave our luggage unattended, we went by car. At the top, you have the ruins of the castle, of which there is not much left, but the views are the best part. There is also a cafe/bar at the top open during the summer months for visitors to enjoy.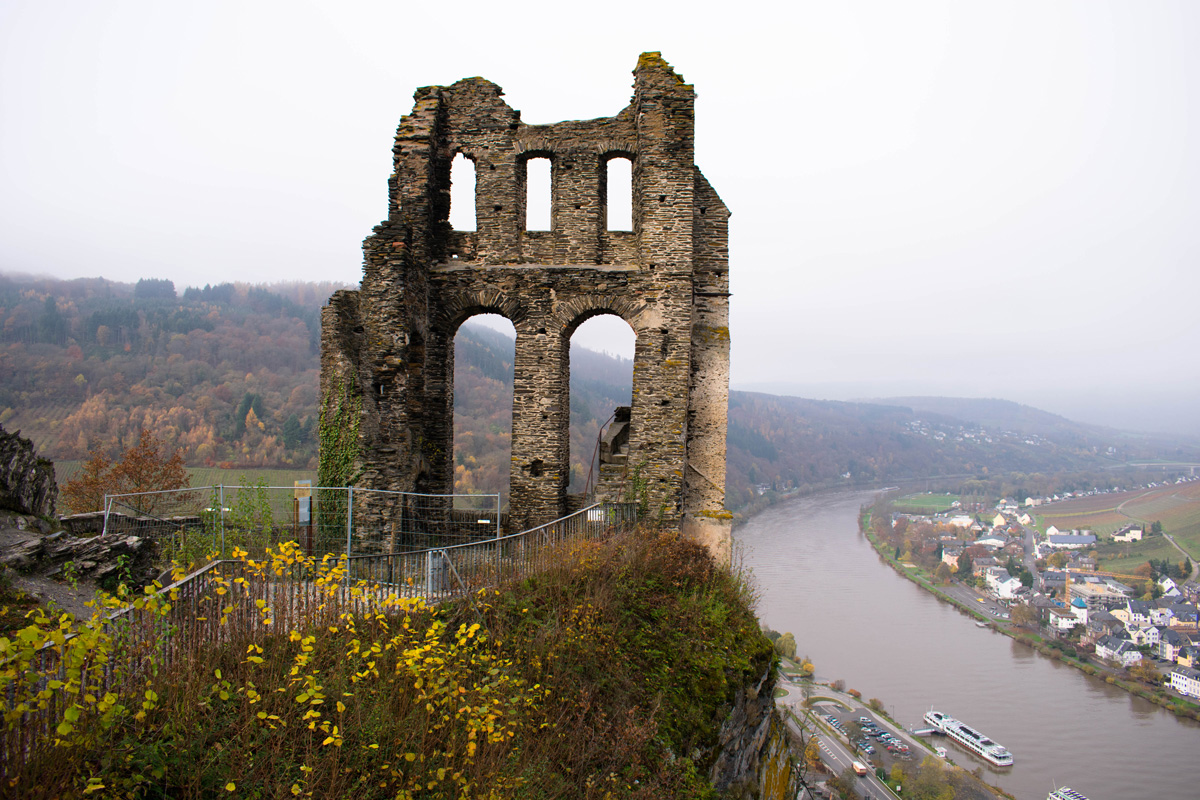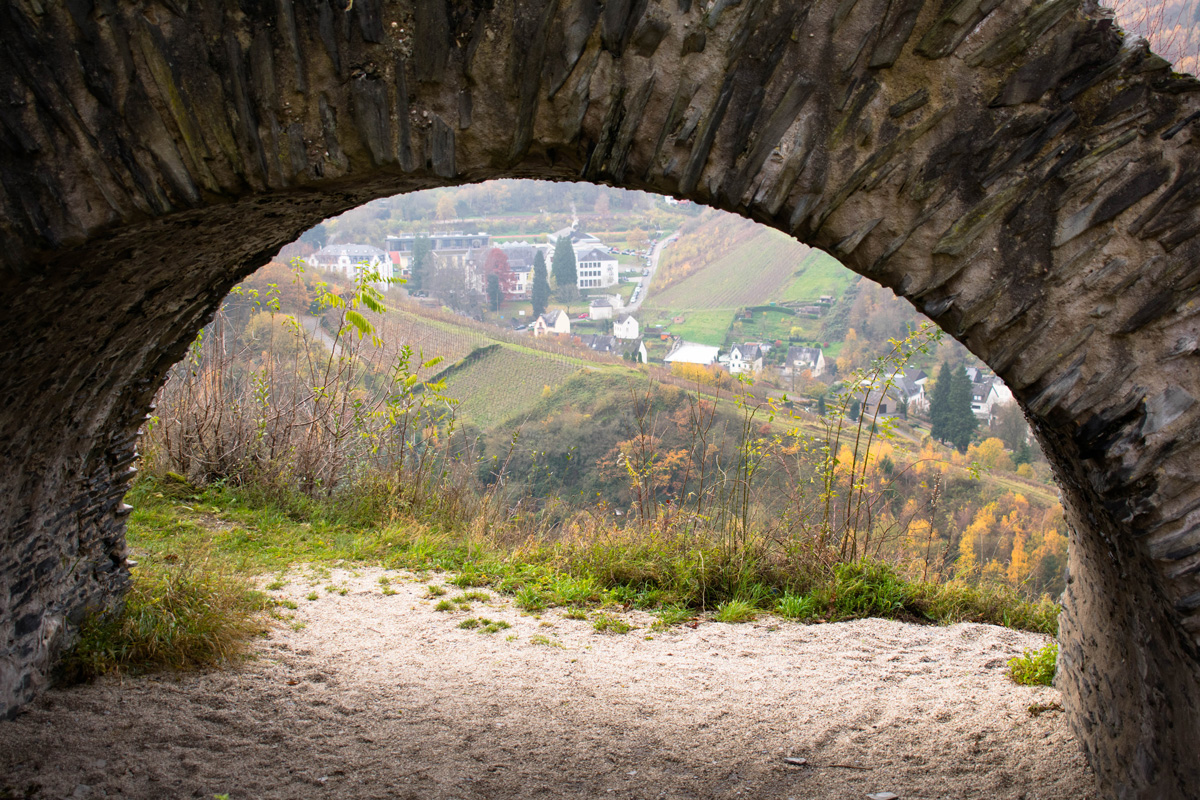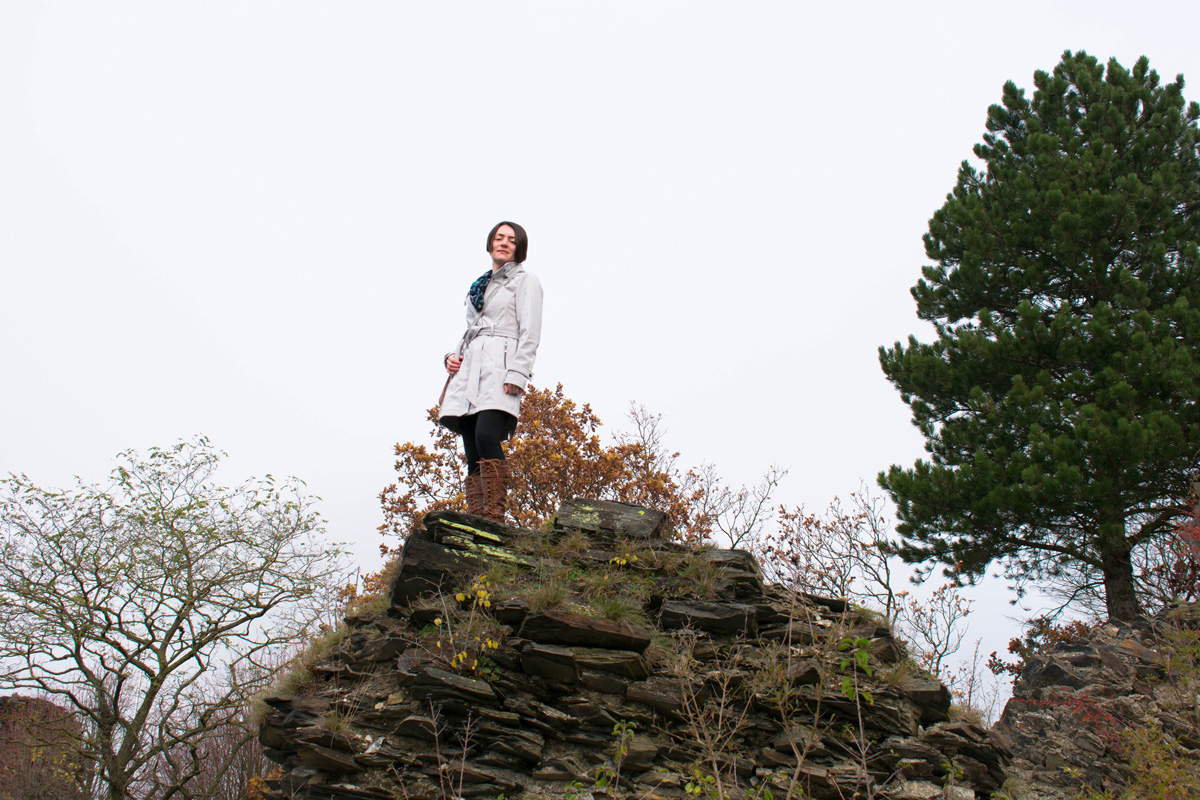 Obviously, summer is the best time to visit Traben-Trarbach when everything is open and the vines are fruiting. There are boats that take visitors from town to town along the river to taste wine at each stop. However, in late November and December, they have a great Christmas and wine market. We were about a week too early for that.
Another interesting site in Traben-Trarbach is the Buddha Museum, which we wanted to see but didn't have enough time. This museum is home to over 2000 depictions of Buddha and an extensive knowledge database about Buddhism in all its forms.
Of course, if you are visiting in the summer, there are a lot of outdoor activities for everyone such as hiking, cycling, water activities and boat tours. A little outside of town is the Moseltherme spa, which is the only thermal spa on the Moselle River.
Once we were done looking around town and exploring the ruins, we took a nice scenic drive along the river through a few of the neighbouring towns before heading to the airport, which is highly recommended. This was our first experience driving in continental Europe and it was pretty seamless. Germany definitely is a driver's paradise (especially when the rental company upgrades you to a BMW).
So that was our experience in Traben-Trarbach, and the first small town we chose to write about. Have you been to Traben-Trarbach?
Have any suggestions for other small towns in Germany we should visit? Let us know in the comments!
About the Author:
Liked this article? Pin it!